On December 3, we (Perspective book series authors Amanda Giasson and Julie B. Campbell) will be featured authors at the Barrie Public Library's 2022 Local Author Book Market 📚. Alongside other talented local authors, we'll be selling our books (adult/teen and kids' books) and gift sets. You'll also find us on the event's Main Stage, when we give our quick Lightning Talk about ourselves, our Perspective series, kids' books and latest book release.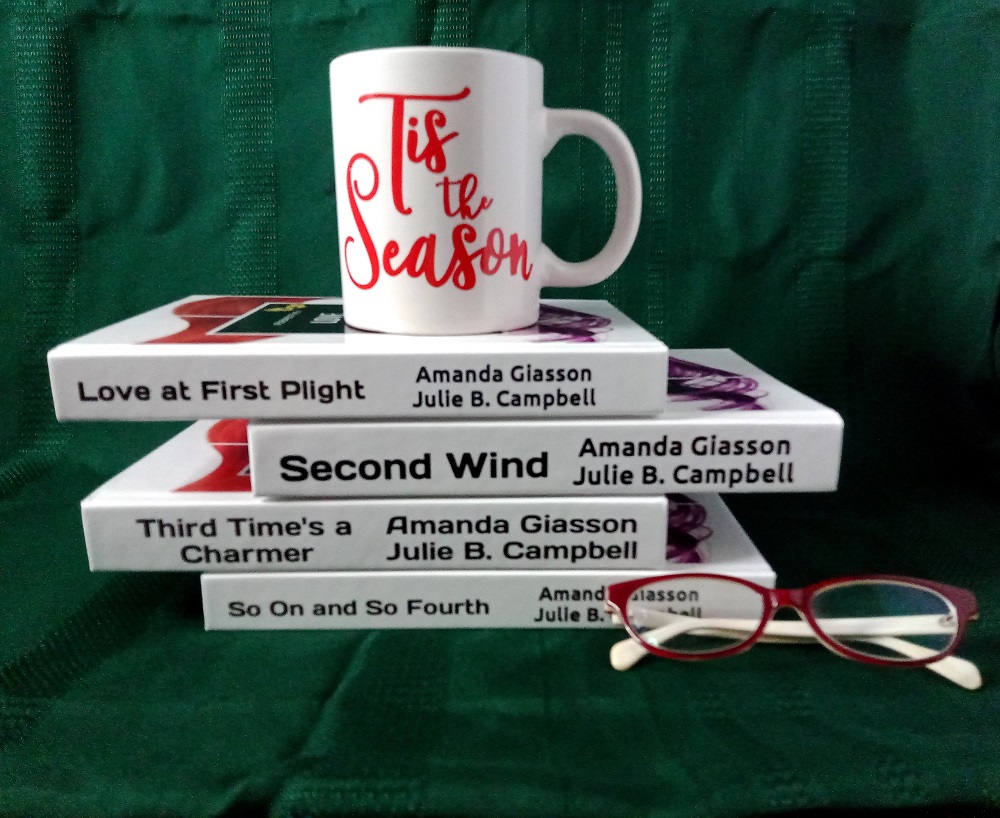 Enjoy a free, family-friendly, festive-themed afternoon that is fun for everyone who loves books and wants to meet and support local authors!
While you're there, don't miss the Christmas Elf in the children's area! Kids can write letters to Santa Claus🎅 and drop them in Santa's North Pole Mailbox (also located in the library) ✉️📮to make sure Santa knows just what they want for Christmas.
As for Perspective books, here's a look at all the goodies you'll find when you visit our table!
Kids' Books? We've Got Kids' Books!
Got a little one in your life who loves to read or be read to? Do you love children's books? We've got your gift giving covered!
Take your pick from three exciting titles, including our newly released kids' book, Pounce!
Pounce! – Go on an interactive adventure with Pounce the kitten – a character originally from the Perspective book series – as she learns to practice, practice, practice to build her skills at hunting funny things around the house (ideal for ages 2 – 5). 🐈‍⬛🏠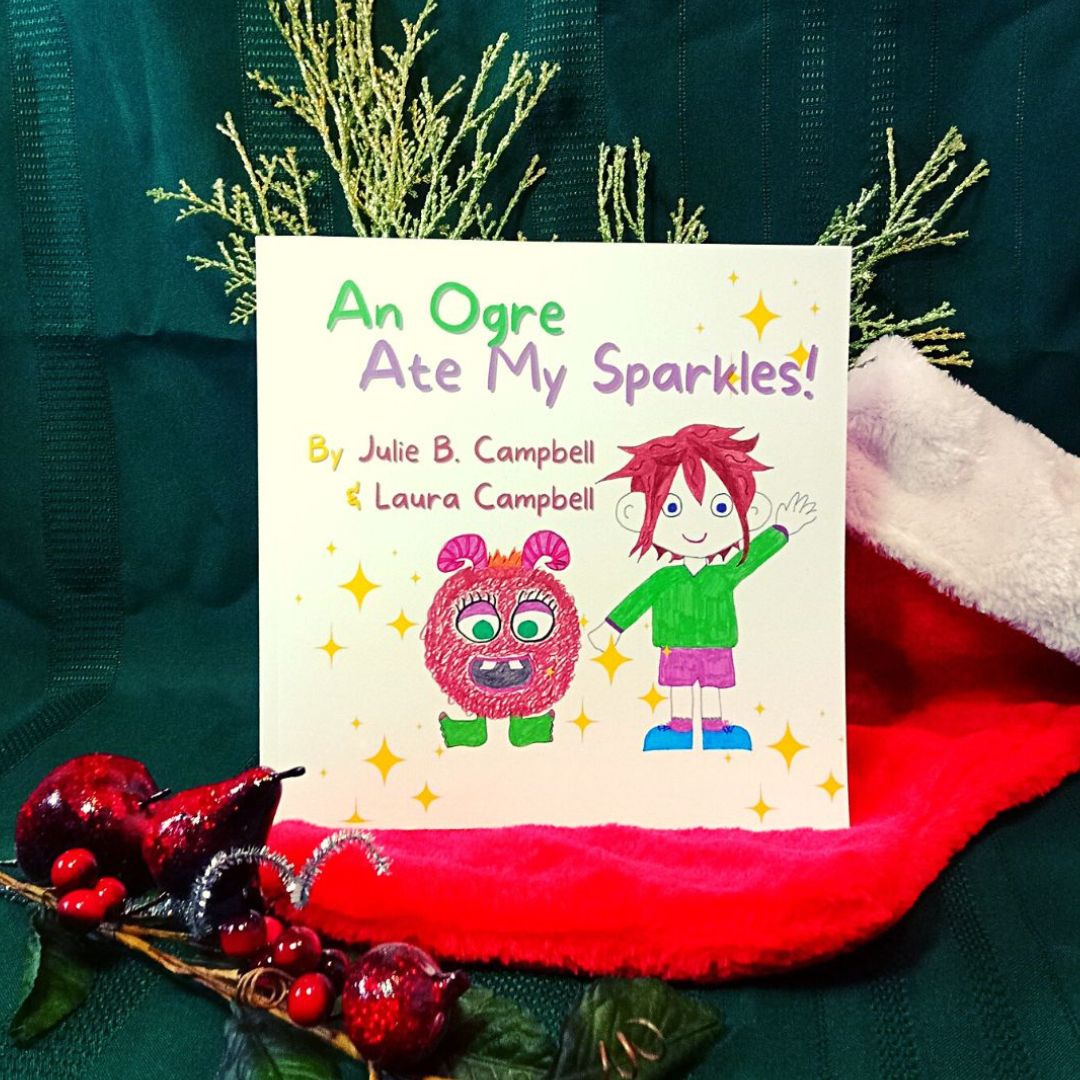 An Ogre ate My Sparkles – Eddie is full of happy sparkles but needs to figure out how to stop an ogre from making their sparkles disappear (gender neutral story – ideal for ages 4 – 7). 👹✨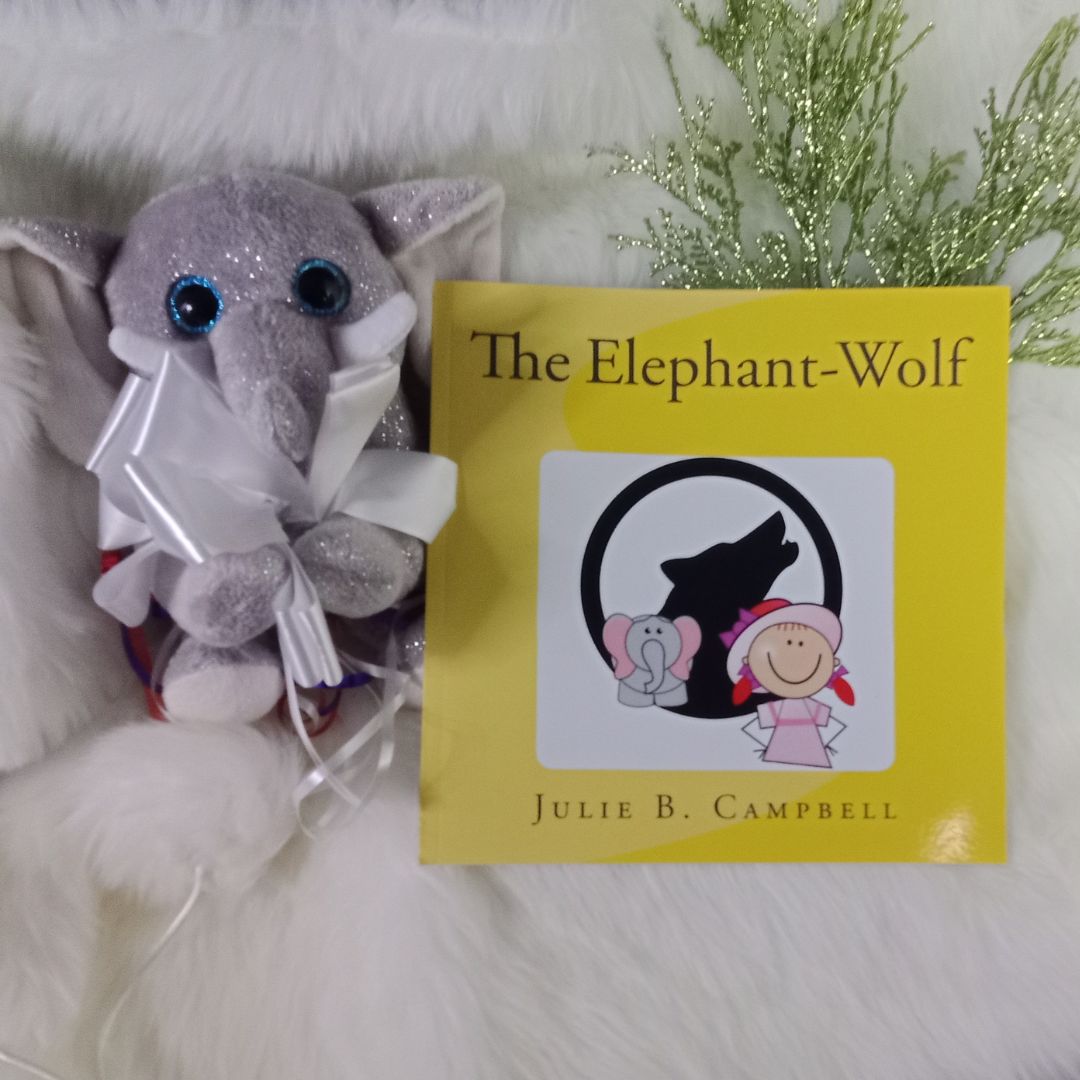 The Elephant-Wolf –Jules is a toy elephant who thinks she's a wolf and learns the importance of being herself, not letting labels define her, and the unconditional love within her family (ideal for ages 5 – 8).* 🐘🐺
*🎁A special Elephant-Wolf gift set is also available and makes a great holiday gift! It includes the book and a sweet plush elephant toy.
Plus, as an extra-special holiday treat, the purchase of any children's paperback book comes with your choice of one (1) of the following free e-book options:
Pounce!
Love at First Plight + two e-novellas: Thayn Varda: An Early Journal and Mez Basarovka: Journal of a Spoiled Prince (The Perspective series is ideal for ages 13+ and adults)
Perspective Book Series Gift Sets at our Best Event Price!
Give someone (or yourself!) the amazing gift of the complete Perspective book series (so far), which includes your pick of a series-inspired gift item! 🎉🎉
🎁Gift sets are $25 and include: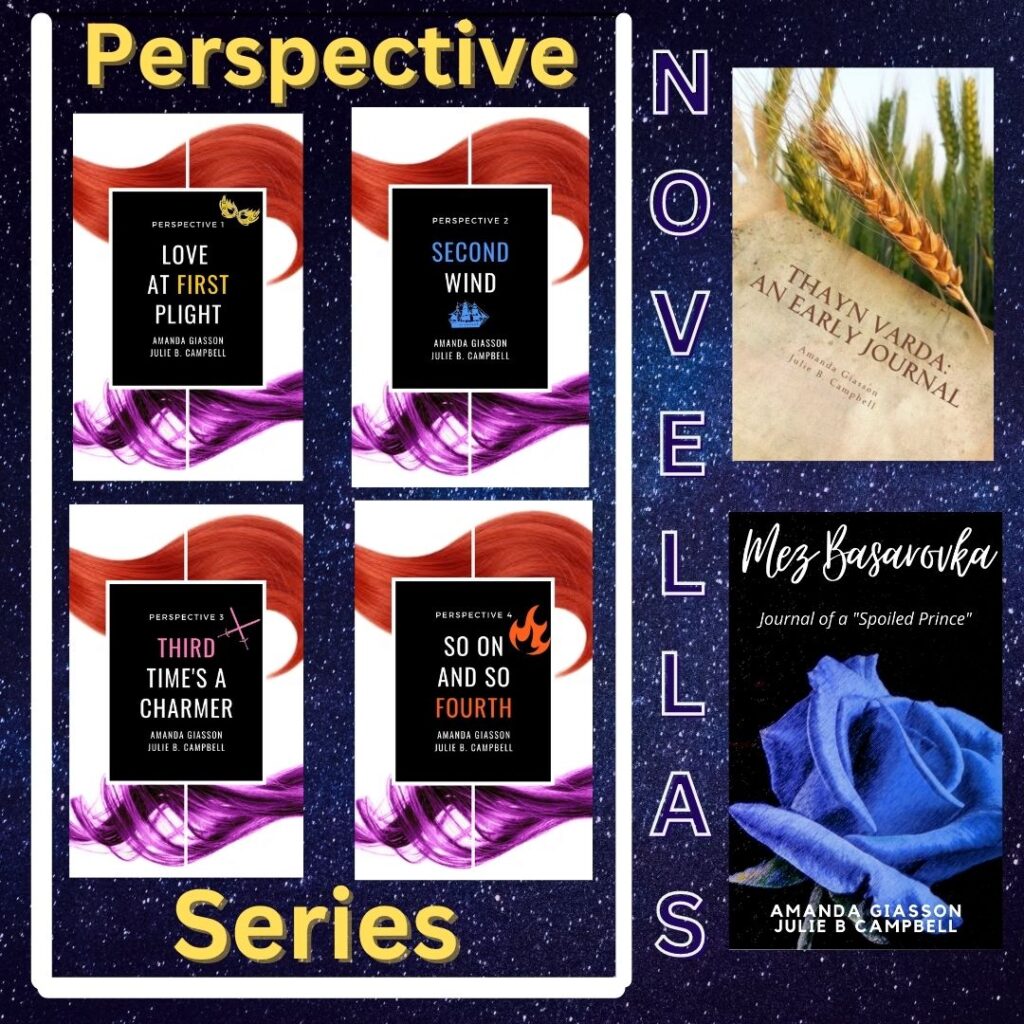 Four (4) Perspective e-books
Two (2) e-novellas
Your choice of one (1) of these "crisp" series-inspired items! (While supplies last)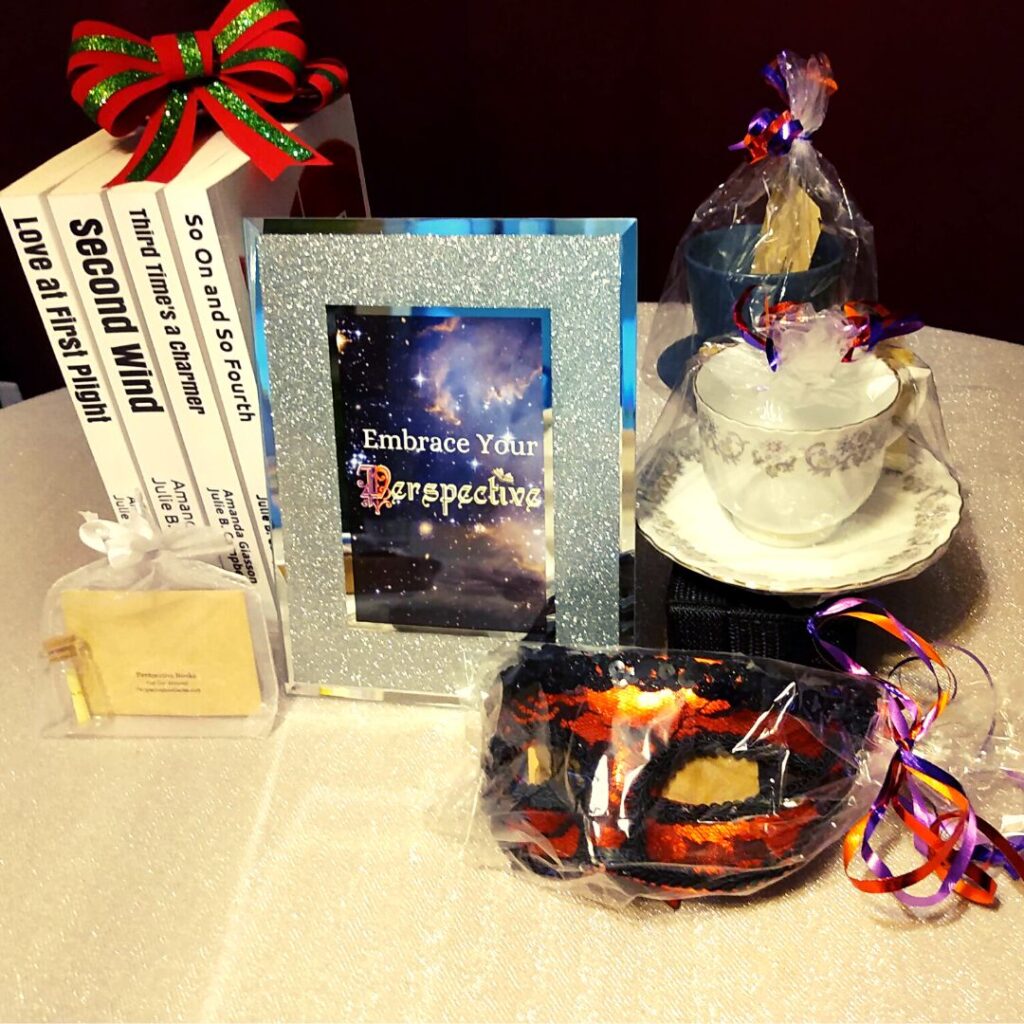 4 retired cover paperbacks (no longer in print) 😲
Masquerade mask (choose from 3 colour options, while supplies last)
Secret message in a bottle
Teacup & saucer
Coffee cup & saucer
Sparkly picture frame with your choice of Perspective art print card (choose from 4 frame colour options and 4 art print options, while supplies last)
Get Free Extras When You Purchase ANY Perspective Series Paperbacks
Pick up Perspective paperbacks at a great deal even cheaper than buying them on Amazon! Not only do the paperbacks make a great gift for a stocking or wrapped under the tree, but your purchase of a Perspective paperback(s) includes one bonus signed art print card of your choosing! 😁🙌
Looking for the ultimate deal while supporting local authors?  When you buy any paperback or the full set of novels in paperback (the best deal), you'll also receive Perspective e-book novel(s), as well as the e-novellas as a free gift that you can keep or gift to someone else!
Purchase any one or more Perspective series paperback(s) and get the e-book of Love at First Plight + the two e-novellas (Thayn Varda: An Early Journal and Mez Basarovka: Journal of a "Spoiled Prince") free!
Purchase all four books (Love at First Plight, Second Wind, Third Time's a Charmer, and So On and So Fourth) and get the complete e-book series set + the two e-novellas, free!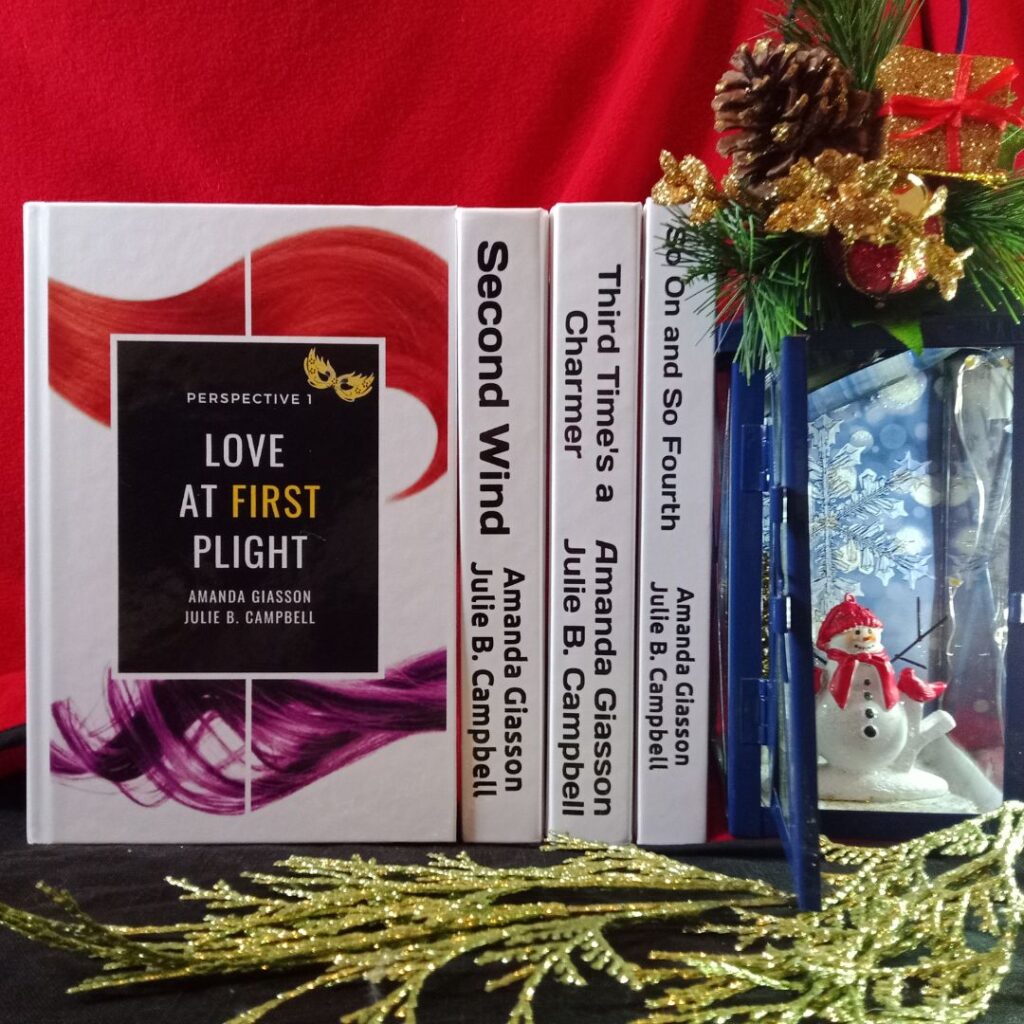 Bring the Perspective Book Series Home for the Holidays
We're thrilled to take part in this year's Barrie Public Library 2022 Local Author Book Market, and we hope to see you there! 😀🎄
Facts to know about the BPL 2022 Local Author Book Market:
When

: December 3, 2022

Where

: Barrie Public Library, Downtown Branch (60 Worsley Street)

Time

: 2pm – 4pm

Cost

: Free!

Event type

: Family-friendly, Books & Merchandise for Sale, Meet Local Authors  
'Tis the season of shopping🎄🛍️, gift giving🎁, spreading cheer😁, and getting signed copies of Perspective series books for the book lover on your list!
Until then, stay crisp (and warm!) ❤️💜