Third Time's a Charmer leaps directly into the story to follow Megan and Irys through the Perspective book series, starting right where Second Wind left off. It is followed by So On and So Fourth.
Third Time's a Charmer – Perspective Series Book 3
Sometimes, even when you're surrounded by people, you're still on your own. Megan and Irys understand this better than anyone. Both women have been pulled away from the paths chosen for them and are beginning to take charge of their own lives. Now, they need to decide where they want to go and whether Qarradune has other plans.
It Changes…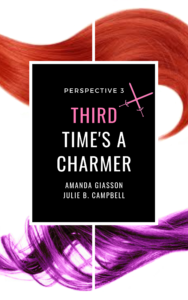 Megan
"Desperately wanting to return to Thayn and find Pounce, I wondered if the madness of this world would ever end. The longer I stayed here, the more the lines blurred between right and wrong. Faced with new harsh realities I could no longer remain neutral. I had to decide who was my friend, and who was my enemy."
Irys
"Lost and dressed only in my nightgown, I faced the cold and darkness of this unknown place. No one could come to find me. They didn't know where I was. To survive, I must face my worst nightmares; terrors I had lived to escape once before. It was time to stand. It was time to run."
* * * * *
More About the Novel
Third Time's a Charmer is the exciting third book in the Perspective book series, following Love at First Plight (book 1) and Second Wind (book 2).
Special Bonus Short Story Inside! Read "Rebel at Heart" from a completely new perspective.
Preview Third Time's a Charmer
Where to Buy
Get your copy of Third Time's a Charmer at your favourite online bookstore.
Click for a list of major retailers carrying the Perspective series books.