Thayn Varda: An Early Journal is the first novella in the Perspective book series. Though it doesn't necessarily contain any spoilers, we recommend picking this one up after you've read Love at First Plight and Second Wind to get the most Thayntasy out of it.
Thayn Varda: An Early Journal – Perspective Series Novella 2.5
If you can't get enough of Thayn Varda, then you're not alone. Don't worry, your only chance to learn more about him isn't to somehow find yourself on Qarradune, like Megan Wynters. You also don't need to live in Syliza, like Irys Godeleva.
A Different Perspective…
Thayn Varda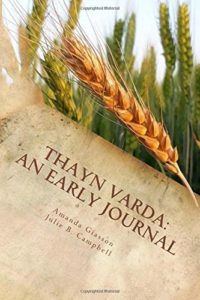 There have been many stories to explain how this journal was found. Some say a fan somehow broke into his house and absconded with it. Others say it was delivered to the wrong address while being sent by post. Whatever the truth of it happens to be, it's here for your reading pleasure and Thayntasies.
Today, Sir Thayn Varda may be Commander of the Knights, but there was a time when his life had been much simpler. Find out how this self-made man rose to become the golden-tressed hero we now know him to be.
* * * * *
More About the Novella
You'll get the most enjoyment from this book if you read it after Second Wind in the Perspective series.
Preview Thayn Varda: An Early Journal
Where to Buy
Get your copy of Thayn Varda: An Early Journal at your favourite online bookstore.
Click for a list of major retailers carrying the Perspective series books.