It's time to share our perspective (see what we did there?) on 2021 and everything that happened this year. Amanda Giasson and I (this is Julie B Campbell at the keyboard) both agree that while this year definitely came with its bumps and challenges, it was definitely a heck of a lot better than 2020. As long as things continue in the getting-better direction, neither of us have any complaints – at least, not noisy ones.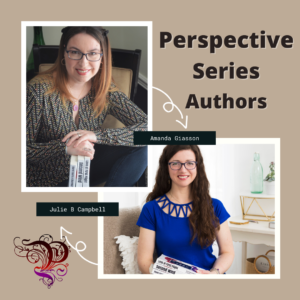 Our Perspective as Canadian Authors in the *Gestures Broadly*
Not going to use the P-word, but yes, "all this" continued on throughout the year, and yes, it definitely came with its challenges. As Canadian authors working hard not only to write new novels but also to reach our readers, the hurdles from being stuck in virtual mode have certainly made things more unique.
Still, as much as we definitely missed cosplaying at in-person events and meeting new readers and reconnecting with the ones we've met in previous years, this situation did give us the kick in the backside we needed to come alive on social media, as we've been promising ourselves we'd do since 2015 when Love at First Plight first hit the shelves. So, at the risk of using our perspective for a bit of brightsiding, we definitely learned something and started some good habits, even in the midst of all this.
Our Perspective from One Month to the Next
When I first started writing about our perspective this year, there were a couple of things that came to mind. It really wasn't enough for a whole post here, so I did what I always do. I asked Amanda to remind me of what has happened in my life. Amanda's the one with the memory between us. Turns out, quite a lot happened this year. Waddaya know?
To keep our perspective from getting too messy, I've arranged things chronologically by month.
January
January began with the determination to get our fourth novel in the Perspective series, So On and So Fourth, completed. We were editing with a vengeance, pouring over every line, while reviewing the notes our alpha and beta readers were generous enough to share with us (Thank you again!) as well as those from our awesome editing team (We love you!).
February
February was the true start to our use of social media from our perspective as the series' authors. We'd poked at it in the past, mostly just to announce new covers and launch dates, but in February, we really got things going and have had so much fun keeping it up! What had we been waiting for?
March
March came with the soft launch of our Perspective book series merchandise line. Our official shop opened with two T-shirt designs and two sock designs (which we still love). Since then, we've added other types of clothing with new designs and colors, and our ebooks have made it to the digital shelves there too.

April
It finally happened! After two years of writing, editing, rewriting, proofing, notes, notes, notes…So On and So Fourth was released and it felt amazing. It was odd not to see each other on the day of the launch, but we definitely spent a lot of time on the phone with each other, speaking at ultrasonic levels about the latest congratulations/sales/notice we'd received. Good sleep that night!
May
With So On and So Fourth out in the world and one good sleep behind us, we decided to face another part of our perspective that had been looming over us for a while. It was time to go back over Love at First Plight for a fresh editing and proofing.
It'd been six years since that book was first released and in that time, we learned an awful lot about the writing world as Canadian authors. Language changed a lot in a matter of six years, and our books no longer said what we wanted them to say. Also…we learned how to use a comma. 🤦‍♀️ We'll do a separate blog post about why we decided to give Love at First Plight a top-to-bottom cleaning, but the point is, May was the first of many, many, many Sundays spent editing that novel.
June
Since we'd decided in May that we were going to re-edit Love at First Plight, we decided that we'd also take the opportunity to update the book covers. We love our book covers, but even though each one has a different background colour behind the titles, they all look extremely similar on our display tables when we're guests and vendors at various events.
After having placed my copies face-out on my bookshelf (which you can see behind me in many of our YouTube videos), the sunlight from the window next to me only made things worse. As the books are exposed to sunlight, the colors become even more similar! We've decided to tweak them to ensure that each one is clearly different, while still maintaining the gorgeous look they currently have.
July
July was our first major event of the year. We were thrilled to take part in the Elmvale Virtual Sci-Fi Fantasy Masquerade after the whole thing was cancelled the year before, since it's usually an in-person Comic Con style festival.
We had a virtual booth, were live on social media throughout the event, and the Perspective book series was the proud sponsor of panelist Paul Sun-Hyung Lee, whom you know as Juan Tong from Degrassi: The Next Generation (2010), Captain Carson Teva from The Mandalorian (2020), Appa on Kim's Convenience (2021) or Uncle Iroh on the upcoming Avatar: The Last Airbender TV series (2022). Yeah, that guy!!! Awesome, right? We had an absolute blast. Best thing next to actually being there.

August
August brought our perspective to the WCYR Bookshelf event, which was held virtually this year after having been cancelled in 2020. Aside from attending with our virtual booth, we were asked to do an author reading from the Perspective book series for the event and were happy to provide this section from Love at First Plight.
September
September brought us back to the BPL Comic Con, which was held virtually again this year. This was our second time attending virtually, and we had a great time being interviewed by BPL's Chantale Boileau, who asked us to talk about our favourite comic books and anime. We love, love, love taking part in this event and are super-hopeful that it will be back in-person again next year.
October
October was our month of giveaways. We were thrilled to bits to send signed copies of Love at First Plight, Second Wind, and Third Time's a Charmer all the way to British Columbia to the winner of our Crisp but Creepy giveaway event.
November
November gave us Giving Tuesday, when we were proud to be able to donate to the Canadian Centre to End Human Trafficking, a cause we have every intention of supporting more regularly in the future. This is also the first step in a bigger Do-Gooding effort we intend to launch in 2022.
December
With our editing, proofing and revising of Love at First Plight finally in its final stage (that is a lot of editing Sundays!), we are buckling down to polish everything off for a fresh re-launch of the first novel in our Perspective series in January 2022. It will have better wording, fewer typos, and commas where commas are meant to be. Plus, it will have a gorgeous updated cover that will help it to stand out on the shelf, so you'll know at a glance which Perspective series book you're picking up.
Our Perspective on 2022
Our perspective on 2022 is that the year is filled to the brim with promise. We're re-releasing our first Perspective series novel, we're diving in to writing Book 5, and we're hopeful that in-person events will start safely happening once again.
We plan to keep up our activity on Facebook, Instagram, Twitter, and YouTube, and are looking forward to seeing you virtually and 🤞 in person.
Until then, we wish you joyous holidays, and a safe, happy, and crisp new year! 💜❤️