It's heeere…Third Time's a Charmer!
Hey there Crisp Clan!
The moment you've been anxiously waiting for has finally arrived. Third Time's a Charmer – book 3 in the Perspective series – is here!
Get Your Paperback or eBook Copy of Third Time's a Charmer
Grab your paperback copy of Third Time's a Charmer at Amazon and/or get the eBook on Kindle today!
Not a user of Kindle? No problem earthling! The Third Time's a Charmer eBook is also available on iBooks, Nook, and SCRIBD, and will be coming soon to Google Play Books and Kobo.
Be sure to follow the official Perspective Book Series on social media for the latest updates and all things exciting related to the Perspective series, including the books, giveaways, events, and more.
The stories of Megan Wynters and Irys Godeleva continue in Perspective 3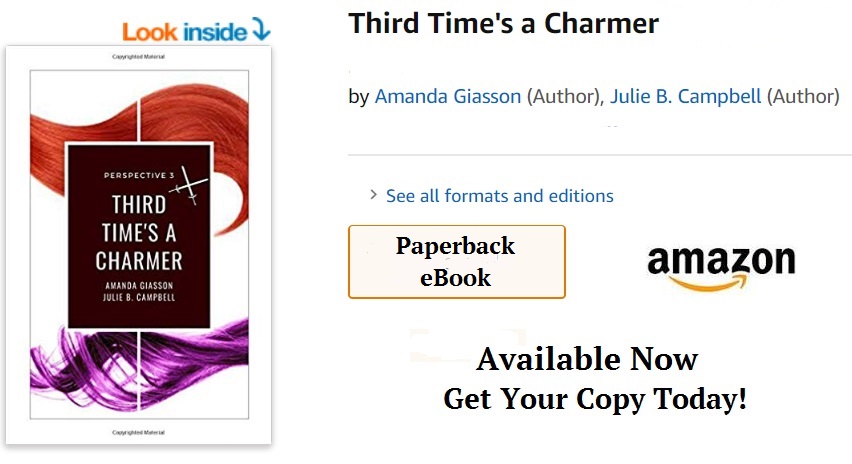 You fell in Love at First Plight with Megan and Irys.
You got swept away with them in Second Wind.
Now the Third Time's a Charmer as their incredible journey of twists and turns continue on Qarradune!
What will happen? What does Qarradune have in store for them? Who can they trust? Who do you trust?
We can't wait to hear what you think of where their stories take them next!
Stay crisp,
Amanda❤️ & Julie?
#thirdtimesacharmer⚔️
#secondwind⛵
#loveatfirstplight?
#perspectivebookseries