Amanda Giasson and Julie B Campbell attended their very first author event last Thursday, April 30, 2015, in support of D.E.A.R Day at Humberwood Downs JMA. They were invited to read Julie's book The Elephant Wolf to the students and to discuss their experiences as writers and co-authors with a select group of nearly 300 students ranging from kindergarten to Grade 6.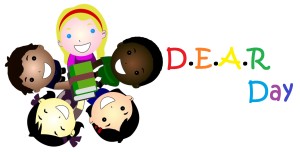 To learn more about the D.E.A.R Day event and the experiences of both authors, told from their perspectives, check out Being A Guest Author for the First Time.
On the topic of events, a new "Events" section has been added to the official Perspective Book Series website. That's right! Amanda Giasson and Julie B Campbell would be delighted to attend your event as guest authors! You can learn more details about requesting a guest author appearance here.
In other news, there is a new Love at First Plight quiz on Goodreads that you can take for fun and to test your knowledge of Book 1 in the Perspective series 😀 Take it here! Also, don't forget to take this quiz if you want to find out if you are more like Megan Wynters or Irys Godeleva!
Julie and Amanda wish everyone a fantastic week and, for all of you Star Wars fans out there, May the 4th be with you! 😉