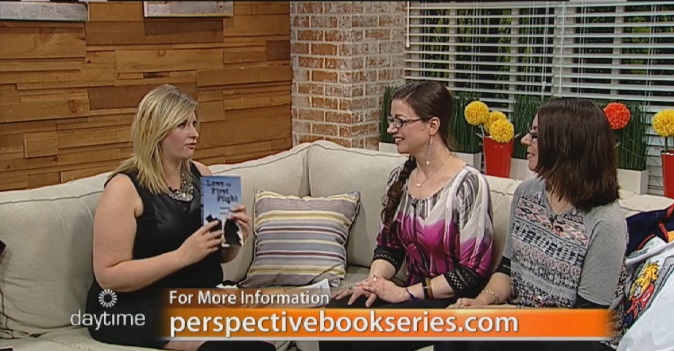 Recently, Perspective book series authors Amanda Giasson and Julie B. Campbell were interviewed on Daytime by one of the TV talk show's co-hosts, Jennifer Gordon.
Perspective Book Series Authors on Talk Show
During their engaging interview with Gordon, Giasson and Campbell revealed what inspired them to begin writing their young adult fiction series as well as briefly discussed Love at First Plight, Second Wind, and their self-publishing journey. It was an exciting experience that neither author will soon forget.
In other news, you can now find the Perspective book series on Instagram. Be sure to follow @perspectivebooks on Instagram to share in a whole new look at the series and its authors.
Also, if you'd like to catch up on the latest progress both authors have made on their Megan Wynters and Irys Godeleva cosplay costumes, you can check out the official Perspective Book Series YouTube Channel cosplay playlist here. Amanda and Julie will be wearing their costumes to Fan Expo Canada in Toronto this coming September 2016. More information about what day they will be attending the event is coming soon.
Have a great week everyone!