First book club event was a success!
Love at First Plight was the chosen book of the month for August by "Book Club – Fun Edition", a book club based in Toronto, Canada.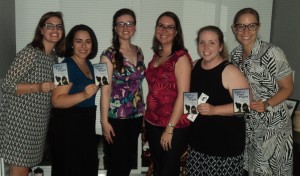 Authors Amanda Giasson and Julie B. Campbell of the Perspective book series were invited to attend the book club as guest authors to join in the discussion and answer questions about Love at First Plight. They both found it to be a wonderful experience.
"What a thrill and an honour! The entire book club was very welcoming and interested. Their questions and comments were incredibly insightful and their honesty was refreshing. If I was in need of a confidence boost, I certainly got it. Can't wait for the next one," Campbell said.
Giasson added, "I had an amazing time talking about Love at First Plight and listening to what others had to say about our story and characters. It was exciting to have other people, whom I've never met before, asking us questions about the book, and hearing them tell us that they really enjoyed it, and are looking forward to the sequel."
In other news, Love at First Plight was recently included in a blog titled, "Must-Read Young Adult Fiction Hidden Gems". Check out the blog if you're looking for some great YA-fun reading.
Have a great week, everyone!