With in-person events back on track, we are thrilled to be cosplaying book characters from the Perspective series books again. This is where my co-author Amanda Giasson ❤️ (it's Julie B. Campbell 💜 at the keyboard this month) truly comes out to shine. She absolutely loves the chance to dress in costume.  For me, it's the creation process I adore. Creating costumes is soooo fuuuun.  When showtime comes around, in-person events tend to butt heads with my mental illness. And yet, when it all comes down to it, it's worth every drop of blood, sweat, and tears.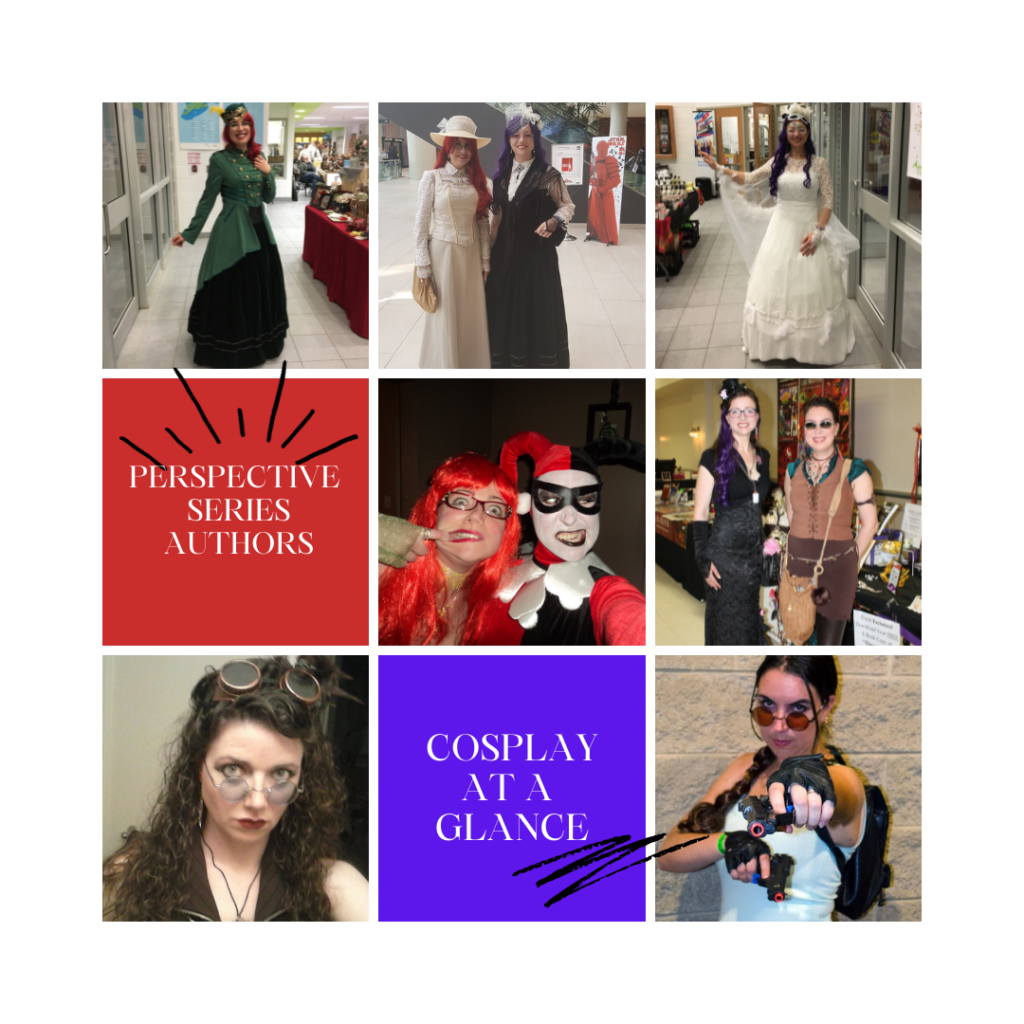 It's Been 3 Years Since We've Been Cosplaying Book Characters from Our Series!
When in-person events went away due to gestures broadly, we continued to participate in the events that took place virtually.
We had a fantastic time at the Elmvale Virtual Sci-Fi Fantasy Masquerade in 2021 and even had the chance to sponsor the panel with Paul Sun-Hyung Lee (Appa from Kim's Convenience, Captain Carson Teva from The Mandalorian /The Book of Boba Fett), which was super exciting.  We each did an online reading for The Bookshelf's virtual event, which was a major step forward for me because, while Amanda is fantastic at reading out loud and should be narrating audiobooks, I had a paralyzing fear of reading out loud and had to work hard to get through my segment – something I'm very proud of having accomplished.
We had an absolute blast getting interviewed for both BPL Virtual Comic Cons and loved seeing what the other authors, cosplayers and workshops had to offer.
That said, throughout it all, the costumes remained carefully packed away. Not anymore!
We Can't Wait to Cosplay Book Characters from Qarradune!
The virtual events over the last couple of years were tons of fun and were super uplifting…but they certainly weren't the same as in-person events. In-person events offer something quite different both to those of us taking part and to the attendees. When it comes to cosplaying book characters from the Perspective series, it makes all the difference in the world. There simply wasn't any way for me to try to take part in a virtual event wearing my massive, winged masquerade costume, dressed as Irys Godeleva. Equally, Amanda wasn't able to cosplay Megan Wynters in her masquerade ballgown inspired by the uniform of the Knights of Freyss.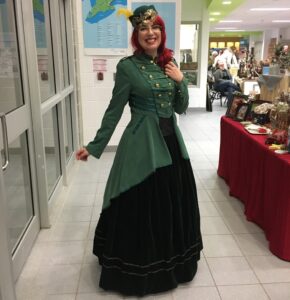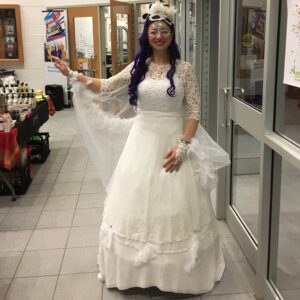 While those costumes will more than likely be headed back to events again this year, we've already started designing fresh new costumes for the outdoor in-person Elmvale Sci-fi Fantasy Street Party on July 2 (mark your calendar!).  We'll be cosplaying book characters from Qarradune, of course, but entirely new ones.
Planning to be there? Cosplay as a character from the Perspective book series and head to our table. We'll have an AMAZING free gift for you!
We Also Can't Wait to See YOU!
Cosplaying book characters from the Perspective series is lots of fun of course, but the whole reason we love attending in-person events is to see you! Even with social anxiety pressing down on every single second, events where I get to meet real-live readers is so much fun! As someone who ruminates incessantly, it means that when I meet you, the odds are that I will remember you and will think on you often. It means the world to me to meet someone who wants to talk about the Perspective series, the novels, the novellas, and the characters.
Yes, Meghan from the 2019 Elmvale Scifi Fantasy Street Party, that means I remember you! And both Marie and Melly at the 2018 and 2019 BPL Comic Cons in your absolutely gorgeous costumes (that you both made yourselves…pardon me as I have a moment of genuine awe! 🤩), who come back each year to buy the next Perspective series book in person. I can't tell you how much that means to Amanda and me!
New Stuff This Year
This year, whether we're cosplaying book characters from Qarradune or not, we've got a lot of big plans for the events we'll be attending. After all, we've had 2 years to plan, design, and prepare!
This year, don't miss our tables because we'll have LOTS of:
FREE Gifts
FREE Giveaways
Bigger Prizes (including the last of our author copies of each of the books and the last of the books in the original covers)
NEW Books
NEW Paperback Gift Sets
NEW Ebook Gift Sets
And a lot more!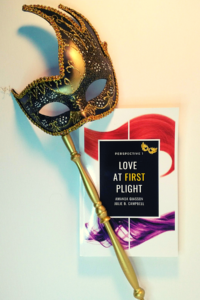 We cannot wait to see you in-person this year and genuinely hope you'll pop by to see us at the events you attend.  If you're not sure where we'll be, check our social media for all the latest updates, as well as for insider opportunities to get exclusive free gifts!
Here's where to follow us:
While you're at it, don't forget to sign up for our newsletter (below) if you haven't already and, of course, stay crisp! ❤️💜