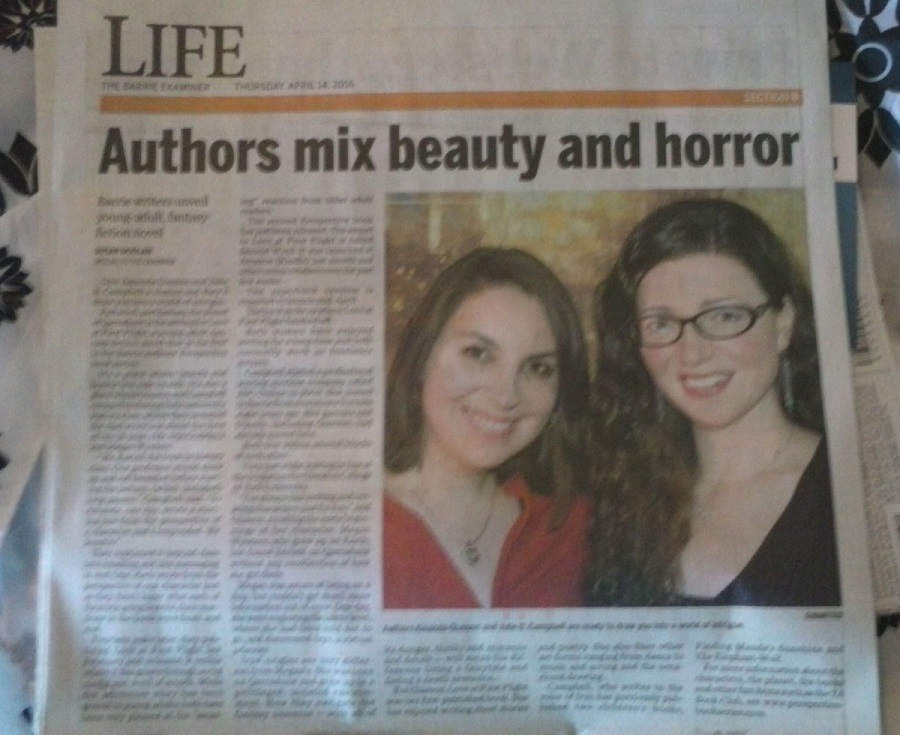 The authors of the Perspective series, Amanda Giasson and Julie B. Campbell, recently found themselves in the spotlight when they became the focus of two newspaper articles.
Spot Perspective Series Authors in Two Recent Newspaper Articles
The first "Two Barrie Authors Live Their Characters' Lives Almost Every Day" focused on the unique writing style used by Giasson and Campbell in order to create their books – Love at First Plight and Second Wind – through real-time messenger technology, as well as their intentions to cosplay the characters they write at the 2016 Toronto Fan Expo.
The second, written by reporter Susan Doolan, was titled "Authors part of Perspective book series in Barrie" and told the story of the authors, how they met, how they write and how they mix beauty and horror throughout their young adult fiction fantasy novel Perspective series.
Good Timing – Second Wind is Here!
These articles were aptly timed as Second Wind had only recently launched in Canada in paperback format.  The novel's availability has since expanded further as it is now available as a Kobo ebook, as well.  This means that the ebook can be purchased at Kobo.com, as well as at Chapters/Indigo.
The authors are thrilled and flattered at the attention they have received and are working hard to continue the Perspective series, having already written the first few chapters of Book 3.