A new way to get all the Perspective book series ebooks and official merchandise you want has just launched, and we're thrilled to say that it's super-fun and convenient to shop there!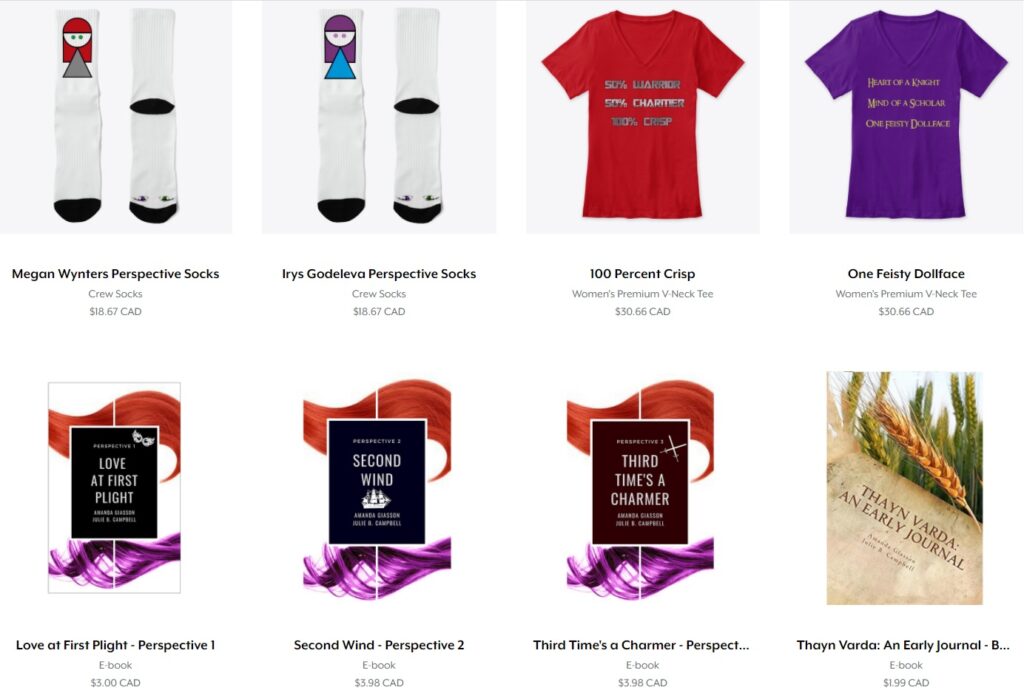 We've sold the Perspective book series ebooks through our site for years, but we know the system was…well…a bit clunky. We appreciate your patience and understanding that book authors aren't necessarily great website designers.
Now, we couldn't be happier to launch a new storefront that is unbelievably easy to use. It gives you one place to shop for all the Perspective book series ebooks and quirky Irys- and Megan-themed official merchandise.
Bought Perspective Book Series eBooks Through the Old System?
If you already purchased one of the Perspective book series ebooks through the old system on this site, or if you received one through a giveaway or coupon code you have yet to use, don't worry, we'll always honour those purchases and active offers. If you have any questions about how to re-download your ebook(s), drop us a line and we'll be happy to help you out.
Books purchased through other platforms like Kindle (Amazon), Kobo/Rakuten (Chapters/Indigo), iBooks (Apple), and so on, are not affected by this change.
You can reach us through any of our social media accounts. We're sorry not to have a contact form to offer at the moment – spammers abused our last one (thousands of fake form entries…) and we had to take it down. We're hoping that's a temporary thing and that we'll be able to restore it soon. Until then…
Yes! We Have Socks and T-Shirts!
It's not just about ebooks anymore. When you pop over to the Perspective store, check out the tees and socks, too. They're Megan- and Irys- approved, so you know the quality is way up there. Plus, the store lets you choose your preferred currency and offers you a selection of sizes, colours, shipping options and payment types…stuff we just couldn't do with the old system!
Once you get your merch, be sure to share a pic on social media, and don't forget to tag us (at the accounts above), so we won't miss it!