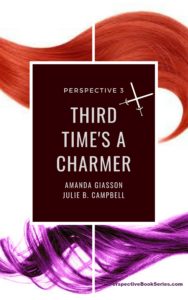 Third Time's a Charmer is the the third volume of the thrilling Perspective book series. The story picks up the moment it left off in Second Wind.
It continues…
Megan
Desperately wanting to return to Thayn and find Pounce, I wondered if the madness of this world would ever end. The longer I stayed here, the more the lines blurred between right and wrong. Faced with new harsh realities I could no longer remain neutral. I had to decide who was my friend, and who was my enemy.
Irys
Lost and dressed only in my nightgown, I faced the cold and darkness of this unknown place. No one could come to find me. They didn't know where I was. To survive, I must face my worst nightmares; terrors I had lived to escape once before. It was time to stand. It was time to run.
* * * * *
Where to Buy
Get your copy of Third Time's a Charmer at major ebook stores and online bookstores. We'll update you here and over social media, as availability expands, so check back often!
The eBook
Amazon.com – to read on your Kindle or through the free Kindle app
Amazon.ca – Kindle (Canada)
Amazon.co.uk – Kindle (UK)
All other Kindle stores, worldwide.
iTunes – to read on your iPhone or iPad
Nook – to read on your Nook or over the free app on your tablet
The Paperback
Coming to Amazon on Black Friday (November 23, 2018).
Can't wait to learn more? We'll keep you up to date with all the latest over social media. Check us out: